Disability Hearings
According to the U.S. Census Bureau, roughly one in five Americans live with some form of disability.  That totals up to about 57 million people, including:
1,851,000 people with disabilities in Pennsylvania
1,750,000 people with disabilities in New Jersey
Among the millions of New Jersey and Pennsylvania residents who live with a disability, many will apply to receive monthly disability benefits through the SSA (Social Security Administration).  While a small portion of claimants will be approved at the initial application stage, the vast majority will, unfortunately, be denied.  The average denial and approval rates for disability claims are approximately:
United States: 30% approved vs. 70% denied
Pennsylvania: 32% approved vs. 68% denied
New Jersey: 42.3% approved vs. 56.8% denied
While a claim denial is understandably frustrating and upsetting, you still have options if you have been denied.  You can appeal the rejection by requesting a Reconsideration, or if necessary, moving on to a disability hearing.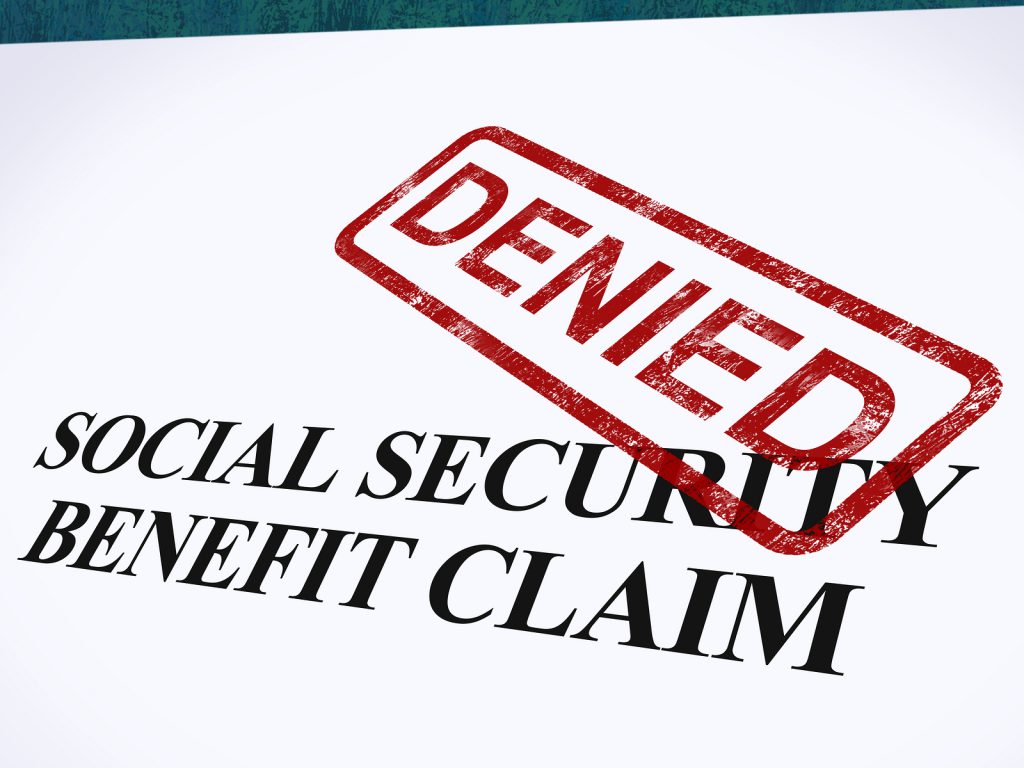 Reconsideration Requests
If you are a resident of Pennsylvania, you may skip the Reconsideration step and request a hearing right away.
If you are a resident of New Jersey, however, you must request a Reconsideration before you will be able to move on to the hearing stage of the appeals process. If you are approved during Reconsideration, a hearing will not be necessary; but if the Reconsideration stage is unsuccessful, a disability hearing becomes your next step.
Form SSA-561, Request for Reconsideration, is available on the SSA website here.
In either case, you must request a hearing within 60 days of your claim denial (or within 60 days of your Reconsideration for New Jersey residents).  If you fail to make this deadline, you will have to start the process again from the first step, wasting valuable time and energy.
What Happens at a Disability Hearing?
The disability hearing is the first and arguably most important step of the appeals process.  Your denied claim is most likely to be approved during the hearing stage, and approval – or denial – is based on the evidence which is presented to your Administrative Law Judge (ALJ).  For these reasons, it is crucially important that your case has the support of an experienced disability benefits lawyer who understands what judges look for when deciding for or against claim approvals.
Before your hearing even begins, the attorneys at Young, Marr, Mallis & Associates will help you prepare for the questions you can expect to be asked.  We will also compile detailed records from your physicians so that you are armed with medical evidence in favor of your claim.
The hearing itself is somewhat informal, and will be presided over by an ALJ.  In addition to the ALJ, your lawyer, and yourself, other parties who will be in attendance at the hearing typically include a vocational expert relevant to your field of work, and a medical expert relevant to your health condition.  There is no panel or jury, and no attorney to oppose your claim.  However, your attorney will be able to question and cross-examine the medical and vocational experts to help ensure accuracy and fairness when your claim is being reviewed.
Ultimately, the ALJ will make his or her decision based on the quality of the evidence which is presented.  Despite its relatively informal structure, it is extremely important to be able to present the strongest case possible during your hearing, because the hearing will be your best chance for approval from a statistical standpoint.  Over 60% of all approved claims — well over half — are approved at the hearing stage.
Possible Outcomes of a Disability Hearing
There are two possible outcomes:
The ALJ decides on a verdict immediately following your hearing.
More commonly, the ALJ will issue you written notice of his or her ruling, usually within two to three months of the hearing.
If the ALJ decides in favor of your claim, you can expect to start receiving benefits; but if the ALJ decides against you, you will have to continue with the appeals process.
At the law offices of Young, Marr, Mallis & Associates, we are seasoned attorneys committed to helping our disability clients reach their goals.  We have more than 25 years of experience representing residents of New Jersey and Pennsylvania in the disability appeals process, and have recovered millions in benefits for thousands of clients.  If you or someone you love has been denied for benefits by the SSA, our firm may be able to help.
To schedule your free and completely confidential legal consultation, call Young, Marr, Mallis & Associates at (609) 755-3115 in New Jersey or (215) 701-6519 in Pennsylvania, or contact us online.